Home > About Us > Company Capability
Company Capability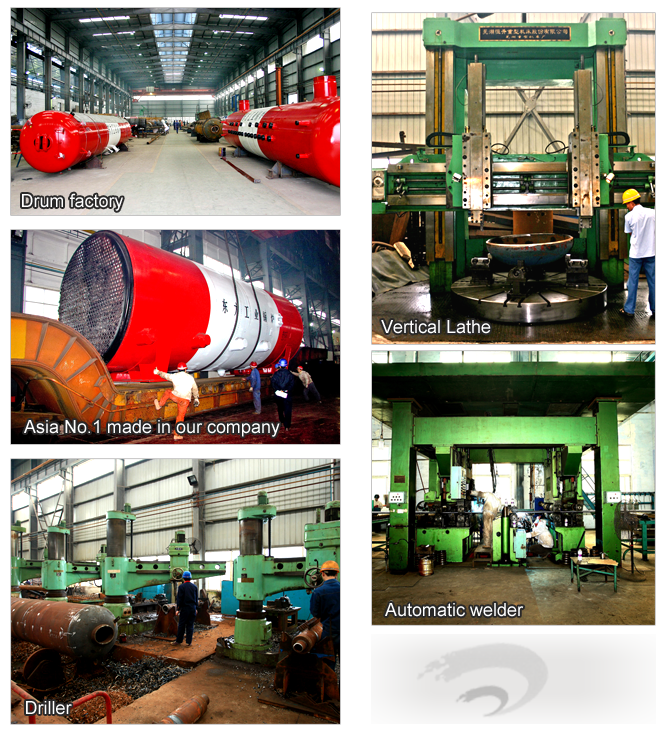 I. Our company continues has become the general contractor and solution provider that integrate design, manufacture, installation and complete projects with EPC through its innovative management, pioneering spirit and leapfrog development. Our company owns many industry qualifications like A-class boiler manufacturing license, A2- class pressure vessel manufacturing license, US ASME "U" "S" Steel Seal, A-class Boiler installation, modification and maintenance license and Pressure pipeline installation license (GB2 GC2)etc., passed ISO9001: 2000 International Quality System Certification, and was awarded the title of "National High-Tech enterprise" Sichuan Technology Center", "Establishing the Cultivating Enterprises of Innovative Enterprises in Sichuan Province" and won 15 honorary titles like "China's Top 500 Large and Medium Industrial Enterprises of Sichuan Province", "2010 Grade-A Tax Payment Enterprise", "Enterprise in Good Faith Demonstration of Sichuan Province in 2007" etc..
¢ò. Our company pays attention to the construction of technology team and cultivating talents and the company's science and technology research and development as well as the technology innovation system are becoming more improved. There is a research and development center in the company, and it has the design and development department One (Zigong) and design and development department Two (Chengdu) for the product design and new product research and development specially. The company continues to cultivate and introduce talents who are elite in technology to strengthen the construction of technology research and development team; now there are 80 technology personnel working for the technology management and research and development, of which there are 50 technology personnel working for the new product research and development, 10 senior engineers and 30 engineers.
¢ó. Our company inherits and carries forward the advantages of Dongfang Boiler Waste Heat Boilers, Energy-Saving and Environmental Industrial Boilers in the industry. In recent years, the company increases the investment to cooperate with the domestic well-known institutions through independent research and development, and continues to improve the research and design capabilities. The company already has had the ability of design, manufacturing and installing various types of boilers with 410t / h and below it, and has formed six series of products like coal-fired boiler, fuel gas boiler, waste heat boiler, biomass boiler, A2-grade pressure vessel and supporting auxiliary of boiler etc.; there are nearly more than 170 varieties of products and they have been exported to Indonesia, Vietnam, Mongolia, Myanmar, Pakistan, Mali and other countries. The 11 technologies like the "circulating double fluidized bed boiler", "off-gas carbon black production boiler" and "cyclone pyrite system waste heat boiler" that the company independently developed were awarded the national Invention or utility model patents.
¢ô. The company's productivity continues to rise, and now it has the manufacture capability with 3,000 steam tons of high, medium and low pressure boiler to meet customers' requirements of the product delivery schedule on time and with good quality.
¢õ. The company has stronger capability of the project complete and project management. The combination of the company's boiler manufacture and installation cultivates and trains a group of professional talents in system design, electrical engineering, instrument and project complete management at the same time; and it owns the complete capability of 100MW and below it self-generation power plants, co-generation of heat and power project, waste heat power generation project.

¢ö. The company inherits and carries forward the "24 hours" service spirit of Dongfang Boiler, insists on the "dedication, Fastness, Perfectness" service concept, and constantly enriches and improves the "pre-sale, on-sale and after-sale" service contents. The company headquarters has a customer service center and the corresponding service platform. Meanwhile, it has offices in Beijing, Shanghai, Guangzhou, Nanning, Chengdu and Jakarta, Indonesia etc. for providing customers with service in time so as to make customers "rest assured on buying with the comfortable."